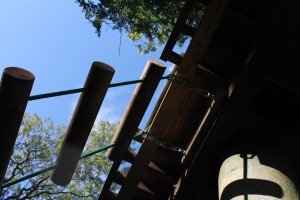 Who doesn't like climbing trees?  With tree based Aerial Trekking courses you can take having a great time in trees to another level. Over the last ten years courses have sprung up right around the world.
For a top site you need mature trees that are positioned fairly close to each other (max. 10m away). The length of an aerial trekking element is approximately 7 metres although longer elements can be installed. If the space is too large a wooden pole can be installed to fill in a gap.
Most tree courses consist of between 5 – 9 elements and normally finish with a zip wire to the ground.  When participants arrive they will be fitted with a harness and given an induction on how to use the course after which they will be free to enjoy the course at their own pace.
To make a site appealing and a destination venue, you need to make it an event.  In our opinion to make a successful course, it needs to have enough activities to keep people busy for at least two hours. To do this you will need at least four aerial trekking courses or levels.
A popular option is to add some alternative elements to a course such as large zip wires or swings.
We would certainly recommend trying to use any natural features like hills, valleys etc to your advantage by adding extra activities.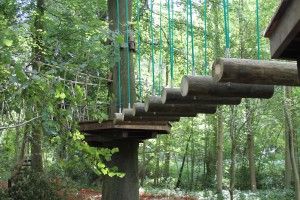 There are multiple ways a course can be designed, built and operated. Our job is to guide you through the best design and best set up so that you have a long and successful business.
Technical Information
The larger the course the greater the economies of scale so the better the price, but as a guide elements range between:
Price: £2,000 – £4,000 (+) (+VAT). Per Element
Features: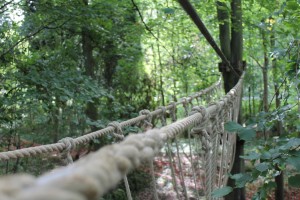 Ground level training elements for participants
All designs allow for phasing and expansion.
All courses comply to EN:15567-1
Safety signage
Access to the aerial trekking
Safe belay system that does not allow 'double unclipping'
Aerial trekking elements
Exit method, e.g. zip wire, slide etc
All projects come with risk assessments, standard operating procedures, inspection manual and log book, engineer's calculations, individual material certificates, health and safety policy.
Belay options: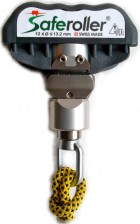 Continuous belay system with the Safe Roller™: Innovative system where participants are not able to 'double unclip'.  Increases capacity as the transition between elements is quicker.  The design is suitable for younger children to operate as it is simpler, this also reduces participant instruction times and supervision.

Intelligent self belay system with Bornack™:  This system resembles the classic cow's tail belay device used on rope courses.  However this system uses mechanical ID points (known as TWEEZELS) at the start of each element.  The ID only allows one karabiner to open at a time, eliminating the risk of double unclipping.   The participants also carry a specially designed zip trolley that clips into the Bornack system.
Points to consider
Have you had an arboricultural report?
Are there enough suitable trees? Minimum of 300mm width at highest point of activities.
Who is the target audience? Child or adult orientated course?
Are there Tree Preservation Orders on site?
Do you have a company theme that you would like to see used in the course?
Is there access for plant into the site?
Element List:
Postman's Walk// Hybee Jybee// Balance Beam// Wobbly Log// Oh Buoy// Mini Zip// Multi Vine// Burma Bridge// Boulder Wall// Cargo Net// Step Across// Monkey Fist// Spider's Web// Suspended Platform// See Saw// Double See Saw// Organ Pipes// Horizontal Pipes// Tyre Crossing// High Low// Spinning Platforms// Leap of Faith// Tyrolean Traverse// The Ladder// Peg Crossing// Stirrups// Moon Walk// Boomerang// Spinning log// Tarzan Swing// Rickety Bridge// Stepping Stones// Hop Scotch// Barrel Roll// Cruciform Crossing