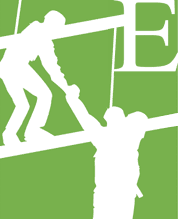 All of our installations conform to the relevant European standards and built to exceed the European Ropes Course Association (ERCA) standards. With conformity to EN: 15567-1 (construction) during the construction phase and EN: 15567-2 (operation) in the design process and installation of instructor/inspector access.
We  adhere to and exceed standards from the Amusement Device Inspection Procedure Scheme (ADIPS) created by the Amusement Device Safety Council (ADSC) who are the inspection body for all major theme park rides in the UK and are supported by the Health and Safety Executive. All installations are inspected by a third party Inspector either from ERCA or ADIPS prior to handover.

We are also members and adhere to the guidelines set out by the Association for Challenge Course Technology (ACCT), the regulatory body for ropes courses in the US since 1993. Their latest edition (2012) sets out standards for Design, Performance, Equipment, Inspections, Operations, Practitioner Certification and Training.

All of our installations have a built in safety ratio of 5:1, meaning we times the safe working load by 5 and build our structures to that level.
Every project is reviewed and signed off by an independent structural engineer, copies of the drawings and calculations are provided in the pre construction phase and in the handover pack.
All ground anchors are tested and rated in line with EN: 795:2012 Personal fall protection equipment – Anchor devices. Certificates are available on request.
We can provide all Personal Protective Equipment (PPE) or guide you to the best suppliers.