We built fantastic commercial zip wires.  To date we have built most of the successful commercial zip wires in the UK and we don't intend on stopping there.
Giant zip wires in are rapidly growing in popularity globally. The only reaction we encounter is 'Can I have another go?'.
More venues are realising the appeal of the white knuckle experience, they can be a real revenue generator, combining few staff and high throughput.  Giant Zips are 300 metres +, we also love building smaller ones.  All the information you need is below.
In 2012 we completed our most challenging build to date by installing twin zips over the biomes of the Eden Project. These 660m wires are the longest in England. This incredibly challenging zip rises 40 stories over the top of the site, flying over the impressive biomes at speeds of upto 60mph. See what you think.
We excel at creating commercially successful rides that focus on safety, efficiency and enjoyment. Not all locations will be suitable for a commercial zip, but there is a range of new developments that mean that they can be put in more places than ever.
The cost of a zip wire ranges from £4k to £150k (+).  All designs are bespoke to the site and the cost includes:
full 3d drawings,
construction,
guidance paperwork,
inaugural inspection
Staff training.
We can really make your investment pay off. The average turn around of a giant zip wire is roughly one person every 2-3 minutes. This is based on a 500 metre zip wire using a gravity braking system (without the need to abseil at the end). The average cost per flight is £15, one cable can accommodate up to 40,000 zips in a season from April to October.
We can advise you on what is the most appropriate design for you.
Technical Information
Zip wires are a potentially dangerous activity if not properly installed, maintained and operated.
Below are the options available for installing a zip wire. The most suitable configurations would be determined during a site visit with one of our consultants and a site visit. All trees must receive an arboricultal report from a qualified inspector to see if they are suitable. You also need to know if there are any Tree Preservation Orders (TPO) on your site.
Price: £4,000 – £150,000 (+)
Where possible we like to use the topography combined with the optimal zip cable profile (brachioscopic curve) to give the maximum speed with minimum fuss.
It can be difficult to get a zip wire to work, especially longer zip wires where the speed and landing position can be affected by a range of factors such as:
temperature
weight of the participant
size of the participant
wind speed and direction
moisture level
type of cable
participant's aspect
type of trolley
It's a balancing act where we choose the correct combination or factors in the right place to make the best experience.
Options available:
Small to large cable length (50-300m)
Tree to Tree
Tree to pole (vice versa)
Pole to Pole
Existing structure to Tree
Existing structure to Pole
Giant Zip Wires (300m+)
Giant zip wires are destinations, people will definitely travel to use them and the bigger, the better!. Zips can go off buildings, over public areas and below bridges. We are waiting for the first giant inner city zip which will certainly come.
Giant zip wires need a large landscape and work best off of mountains, hills and cliffs.  The larger they are the more difficult they are to work consistently. We have developed a  range of techniques and procedures to make sure that your zip works all day, every day. Whether it's being used by an eight year old girl or a 25 stone coal miner.
Larger zips ideally need purpose built infrastructure to accommodate their special requirements. This can include unique towers, reception areas, landing piers and bespoke ground anchor systems to accommodate the enormous loads generated by the cable.
Features for all Zip Wires:
All projects come with risk assessments, standard operating procedures, inspection manual and log book, engineer's calculations, individual material certificates, health and safety policy.
Zip trolleys: we have a range of trolleys available, with a variety of sheave (wheel) numbers and sizes.
Cable selection: There are lots of cables available, various sizes, materials and designs. Choosing the right cable for the right sites is imperative.
Harness systems: whether its full body harness, sit and chest or superman style we will guide you through what is the best for you.
Safety systems: from restrain systems to double gates access areas we will specify design and install all you need
Security systems:  there is a huge range which can range from brakes on the cable restricting access to the unwanted through to electric eye intruder alarm systems.
Zip wire counter: If you want to know exactly how many people travel down your zip every day we can install an electric eye zip wire counter.
Inspection systems. The cable on a zip wire must be regularly inspected, and the longer they have been in place the more important the inspections become. We have developed a unique system in combination with rigging engineers to accurately plot the wear patterns of the zip in a safe and controlled manner.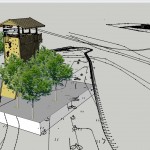 We can provide a full of services from a full 3d animated fly through of the site, through to advice, design, construction, infrastructure installation, business advise, inspection training, operational paperwork, maintenance contract and training.
Braking Options
We always try to install a gravity brake.  This is where the cable starts to rise after about 2/3 of the cable length.  This brings everyone to a gradual stop.  If this isn't possible or not enough then some additional braking is needed.
Bungee Brake
The bungees are fixed to ground anchors that connect to a block installed on the cable. The block acts as an assisted braking system absorbing the speed of the participant. This system is fitted along side the gravity brake system.
ZipStop
For sites where the landing area is limited we can install a ZipStop™. It is a controlled force device designed specifically for the use in the zip line industry as a primary or emergency arrest device at the end of zip line runs and offers a smooth, consistent braking force for all riders.
Features of ZipStop
Advanced self regulating brake unit
Automatic reset line.
Vertigo are registered distributors and installers of ZipStop™.
Additional options
Vertical fall arrest systems for inspections and maintenance.
Hang gliding harness
Paragliding harness
Inaugural Inspection:
Zip wires require an inaugural inspection, we can arrange for either an ADIPS or ERCA inspection.
Training
All instructors must complete a training course to operate the zip wire. We can arrange training courses provided by a recognised ERCA trainer.
Costs to consider
PPE
Ground cover/ landscaping
Construction team husbandry
Travel for two vehicles and/or international travel
Inaugural inspection
Training
Quarterly (giant zips only) and annual inspections
Insurance