High ropes courses are a terrific tool that can be used to understand how individuals and groups perform. The objective is irrelevant, (although it doesn't feel like that at the time), it's the process that's important.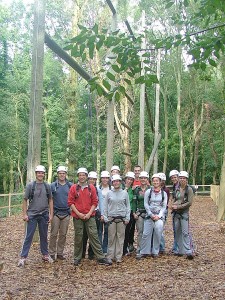 The USP of these elements is height. High ropes courses operate on the idea of risk versus reward. The greater the risk in the task, the greater the reward when it's done. The risks are all perceived but the rewards are very real.
As an example imagining walking along a balance beam on the ground. A big wide beam, it's a simple easy task. Now transfer that beam to the height of a five storey building, it suddenly becomes a very different prospect. It ceases to be a physical challenge and becomes a mental one.
The high ropes provide a window in to aspects of behaviour such as.
Communication
Trust
Team work
Action v's planning
These can be reviewed using developmental techniques or form part of a larger training program. Problems are rarely static and the high ropes courses can be made dynamic through changing the amount of resources or changing the goal. Such as giving the team an object to carry, limiting the time or blindfolding someone. This can be done half way through a challenge without warning and it is a great way to see how the group adapts.
All of our elements are great fun and hugely enjoyable. They are perfect for schools and colleges we can design and build courses to suit all your needs whether it's on poles, trees, indoors or off cliffs.
These are some classic high rope elements, as well as some designed specifically around your requirements:
CLASSIC HIGH ROPE ELEMENTS
| | | |
| --- | --- | --- |
| Jacob's Ladder | Leap of Faith | High all Aboard |
| | | |
| Crate Stack | Vertical Play Pen | Traversing Elements |
| | | |
Courses come in many forms such as:
Linear course
Rectangular course
Part of a larger high rope development
Indoor
Additional features such as zip wires, fan descender and climbing/abseil walls can easily be installed to the main structure.
Technical Information
The information provided below is a guide to the prices you would expect for our products.  Different sites may have issues related to access, ground conditions etc.
Price: Per Element
Tree based:  £4,000 – £7,000 (+)
Pole based:  £8,000 – £12,000 (+)
Standard features:
Treated poles
High rope elements
Cable mounted SRB's
Safety signage
20 year warranty on all workmanship (excluding wear and tear on element materials)
Price based on element
UV protected synthetic hemp rope
Galvanised and zinc plated fixings
12mm 6/36 steel rope
Tested and rated ground anchors
Removable lower sections to stop unauthorised access
Range of belay options
Belay options:
Cable mounted SRB's: This is the standard fitting for high rope elements.  The SRB's can be restrained with cable grips for a single point belay or they can move along the cable for traversing elements.
Niko Track mounted SRB's:  This system is more expensive however the rigid structure the track is fixed to adds extra stability to the course and increases the longevity of the course.  The track also allows for smoother use when traversing.
Inaugural Inspection 
High rope elements require an inaugural inspection, we can arrange for either an ADIPS, ATTC or ERCA inspection.
Training
All instructors must complete a training course to operate the high rope elements. We can arrange training courses provided by a recognised ERCA trainer.
Costs to consider
PPE
Ground cover/ landscaping
Construction team husbandry
Travel for two vehicles and/or international travel
Inaugural inspection
Training
Annual inspections
Insurance