Giant swings are mental!
Giant swings are the ultimate quick access, maximum effect product on the shelf.  You are winched back, facing the ground until you hear the countdown.  Then you rush forward, pulling a couple of 'g's' at 30 mph!
We have designed swings that take up to five people and can be run by one instructor.  With an average turn around time of 8 minutes, this product offers a great return with a high volume of satisfied thrill seekers and low staff requirements.
Swings can be installed anywhere, you can have them swinging over the side of a cliff if you have one! We can fit them to trees, install them inside buildings or house them in purpose built steel or timber frames.
They come in a range of sizes with different options but generally bigger is better!
Whatever your requirements, we will have the answer.  Call us now to discuss what you want.
Technical Information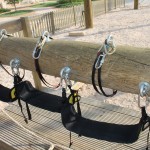 The following are guide prices, Different sites may have issues related to access, ground conditions etc.  Please note the maximum hoist angle of the swing is approx 10 degrees below horizontal.
Price: £15,000- £30,000 (+)
Standard Features
Treated poles
Galvanised and zinc plated fixings
12mm 6/36 steel rope
Swing beam (options available)
Podium seat
Access carriage
Electric winch
Quick release shackle.
All projects come with risk assessments, standard operating procedures, inspection manual and log book, engineer's calculations, individual material certificates, health and safety policy.
Options Available
Swing beams:  Timber, Steel
Poles:  12m, 16m, 20m
Electric winch
Hang gliding harness
Paragliding harness
Manual pull cord release
Electromagnetic release
Mobile access carriage
Brake to slow the beam
Inaugural Inspection
Giant swings require an inaugural inspection, we can arrange for either an ADIPS or ERCA inspection.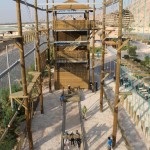 Training
All instructors must complete a training course to operate the Giant Swing. We can arrange training courses provided by a recognised ERCA trainer.
Costs to consider
PPE
Ground cover/ landscaping
Construction team husbandry
Travel for two vehicles and/or international travel
Inaugural inspection
Training
Annual inspections
Insurance