Versatile, Elaborate Courses.
Pole based courses have an advantage over tree based courses in that you have complete design freedom.  We can design a course to fit in any space with multiple levels and the ability to include a host of mad activities.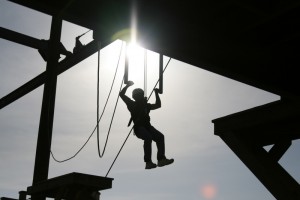 Poles also allow for more elaborate features to be put in such as spinning platforms and rotating tunnels.
These courses are about quick access fun in the safest environment.  The best access is through an Activity Tower. making sure everyone gets to the good times quickly.  The courses are designed in a circuit with one instructor controlling each level.  As everyone starts and finishes in the same place, the instructor can easily run the show.
Most importantly, as the instructor has complete control, participants can not release themselves from the belay system so everyone gets to go home after a great day.
Standard features of a pole based course:
Multiple layers of Aerial Trekking
Technical Information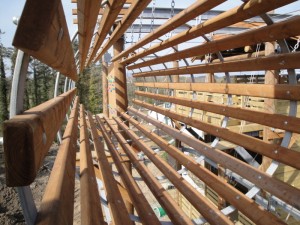 Price: £3,000 – £6,000 (+) per element
It's not essential but you have so many more options for a versatile product and extra activities if you include an Activity Tower.
Features:
Galvanised and zinc plated fixings
All designs allow for phasing and expansion.
All courses are designed in a circuit to reduce instructor numbers.
All courses comply to EN:15567-1
Safety signage
UV protected synthetic hemp rope
Rated anchor points (where needed)
Man riding steel access route (various belay options)
Aerial trekking element
Entry/exit platforms
All projects come with risk assessments, standard operating procedures, inspection manual and log book, engineer's calculations, individual material certificates, health and safety policy.
Belay options: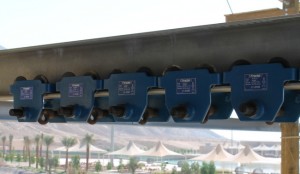 Rail system with RSJ trolleys: This is the cheapest option.  The trolleys fit onto the underside of the RSJ (Rolled Steel Joist) and are pulled along by the participant.  The participant is attached to the trolley via a primary and a backup pre-sown lanyard and karabiners.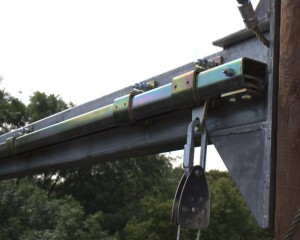 Niko™ track system:  This is a more sophisticated system that is lighter for the participant to pull along and quieter than the RSJ trolley.  The Niko track system is attached to the structural RSJ.  An advantage of this system is that two tracks can be fitted alongside each other.  This enables quicker rescues as the instructor is able to by pass participants on the course. The participant is attached to the Niko trolley via a primary and a backup, pre-sown lanyard and karabiners.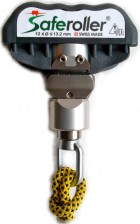 Continuous belay system with the Saferoller™: Innovative system that increases safety as participants are not able to double unclip.  Increases capacity as the transition between elements is quicker.  The design is suitable for younger children to operate as it is simpler, this also reduces participant instruction times and supervision.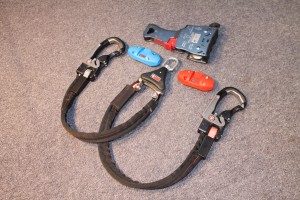 Intelligent self belay system with Bornack™:  This system resembles the classic cow's tail belay device used on rope courses.  However this system uses mechanical ID points (known as TWEEZELS) at the start of each element.  The ID only allows one karabiner to open at a time, eliminating the risk of double unclipping.   The participants also carry a specially designed zip trolley that clips into the Bornack™ system.
Points to consider
Do you have plans of the site?  Do they show location of utilities? etc
Is there suitable clearance from existing structures?
Who is the target audience? Child or adult orientated course?
Do you have a company theme that you would like to see used in the course?
Is there access for plant into the site?
The heights of the trekking layers can be adapted if space is restricted.
Additional extras
Inaugural Inspection
Ropes courses require an inaugural inspection, we can arrange for either an ADIPS or ERCA inspection.
Training
All instructors must complete a training course to operate the rope course. We can arrange training courses provided by a recognised ERCA trainer.
Costs to consider
         PPE
         Ground cover/ landscaping
         Construction team husbandry
         Travel for two vehicles and/or international travel
         Inaugural inspection
         Training
         Annual inspections
         Insurance
Element List:
Postman's Walk // Hybee Jybee// Balance Beam//Wobbly Log //Oh Buoy //Mini Zip //Multi Vine //Burma Bridge //Boulder Wall //Cargo Net //Step Across //Monkey Fist //Spider's Web //Suspended Platform //See Saw //Double See Saw //Organ Pipes //Horizontal Pipes //Tyre Crossing //High Low //Spinning Platforms //Leap of Faith //Tyrolean Traverse //The Ladder //Peg Crossing //Stirrups //Moon Walk //Boomerang //Spinning log //Tarzan Swing //Rickety Bridge //Stepping Stones //Hop Scotch //Barrel Roll //Cruciform Crossing.